Page not available in Swedish.
Background
The impacts of noise on birdlife are well proven. Dose-effect relationships and critical levels are described in scientific literature.
On the basis of previous TRIEKOL research, the Swedish Transport Administration (STA) developed a method that points out road stretches where the traffic noise exceeds critical levels and impacts species of conservation concern. In addition they pointed out habitats where noise prevention should be prioritized. 
While a number of measures to reduce noise for people are used (e.g. screens, berms, adapted paving, traffic calming), their performance for birds have not been tested. Mitigating traffic noise in important bird areas is expected to add significantly to the cost of road/railway construction and maintenance.
To enable cost-effectiveness analyses of noise reduction in important bird areas, the reduction effect of different measures need to better known, and combined with available cost estimates for the different types of measures.
Acoustic ecology is an emerging field, and to our knowledge, similar studies as the ones proposed here has not been conducted. Hence, the results are expected to gain international attention.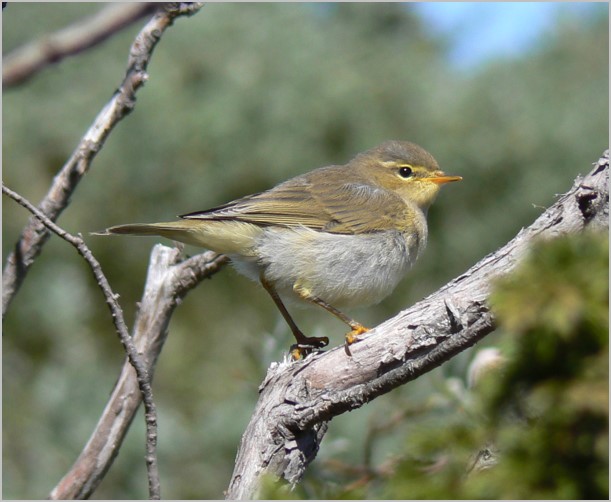 Phylloscopus trochilus. Photo: J-O Helldin.
Activities
In this subproject we will study the effects of noise mitigation along existing road/railway stretches near important bird habitats. Birds are censused in areas where noise screens are installed along an impacting road/railway and in comparable but unmitigated reference habitats, both before and after mitigation (i.e. BACI design). 
In addition to these new studies, available data from the previous BACI studies on birds along the Botniabanan railway will be compiled, (re-)analyzed and published scientifically, to produce a final insight in the main results regarding the railway´s impact on birds. This publication will also contain an overview of the international knowledge level regarding the impact of railway disturbance on birds (particularly wetland birds). 
Output
This subproject gives an insight of to what degree available noise mitigation measures are at all functional for birdlife.
In addition, it produces more insight into the impacts of railways on birds, where the knowledge today is particularly sparse.
Planning for study sites are ongoing. The following sites in Trafikverket regions Syd and Väst are candidates: 
Road E6 Råån
E6 at Råån, Helsingborg; screens along the bridge will be contructed. 
Road 100 Falsterboljung
Road 100 along Falsterboljung. 
Road 11 Klingavälsån
Road 11 at Klingavälsån, Veberöd.
Road E6 Häljarp
E6 at Häljarp, Landskrona.
Road E4 Rosendal
E4 at Rosendal (near Kropp).
Road E6 Fyllinge
E6 at Fyllinge, Halmstad.
Road E20 Mängsholm
E20 at Mängsholm, Vårgårda; new E20 will be constructed and accordingly traffic will decrease on the current road. 
Road E6 Genevadån
E6 at Genevadån, Gullbranna.
Road E6 Bratteforsån
E6 at Bratteforsån, Ljungskile.
Railway Getterön
Västkustbanan railway near Getterön N2000 area; various noise mitigation planned along existing railway.
Further objects/sites can be added to the research, if noise mitigation will be conducted in other important bird habitat during the study period. 
Publications and outreach
The subproject Effect of noise measures for birds has resulted in: